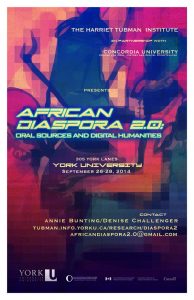 Kick off the new year with an exciting workshop at the Harriet Tubman Institute for Research on Africa and its Diasporas, York University:
"African Diaspora 2.0: Oral Sources and Digital Humanities" is a workshop that takes place on September 26-28, 2014 at the Harriet Tubman Institute. Co-hosted by Concordia's Centre for Oral History & Digital Storytelling, the workshop connects scholars and community historians of Africana studies with digital specialists to discuss how to make past and present oral narratives of people within the African diaspora more accessible and visible through technology. In the spirit of this collaboration, we invite you to participate in lively discussions regarding the role of race, place and economy in the digital turn and to register for the hands-on software labs and demonstrations related to the mapping, collection, organization, and dissemination of oral testimonies.
Please register online if you would like to attend the workshop.
For more information, please visit our African Diaspora 2.0 web page.