Dr. Tokunbo Ojo  will present, "From the  days of "Iwe-Iroyin" till Now: The Political Economy of News Media Business in Nigeria" on Thursday, March 17, 2016, at the Harriet Tubman Institute from 2:30-4:00 p.m.
Abstract: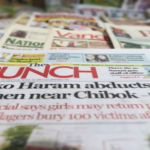 Nigeria has one of the largest and the most vibrant news media industry in the sub-­‐Saharan Africa region. Its news media industry, which emerged from the nationalist struggle and Christian missionary venture in the 19th century, has witnessed an exponential growth in the last five decades. In spite of the vibrancy and long history of the country's news media industry, the news media business is still plagued with series of socio-­‐political challenges that are having diverse implications on journalism both as a practice and as a news enterprise in the country. It is against this background that this talk examines the political economy of news media sustainability in Nigeria.
Bio:
Dr. Tokunbo Ojo is an Assistant Professor in the Department of Communication Studies, York University, Toronto, Ontario, Canada. His teaching and research expertise include journalism studies, international development and communication, geopolitics of global communication, political economy of global media industries, ethnic media and political communication.