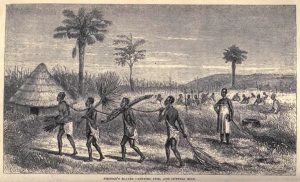 Dr. Stephen J. Rockel  will present, "The East African Slave Trade in the 19th Century: Between The Global and the Local" on Thursday, March 3rd, 2016, at the Harriet Tubman Institute from 2:30-4:00 p.m.
It is incontrovertible that the nineteenth century East African slave trade was global in its reach and repercussions. It was part of a system of exchange across several continents and oceans stimulated by massive changes in the world economy: industrialization in the West and the rise of the middle classes; East African consumer demand for imported industrial products; increased mobility in the wider region by both land and sea; the expansion of European and Omani empires; and a high demand for servile labour. East African slavery, however, was generally subordinate to the region's main export trade in ivory. Slavery followed commerce. Yet, slaves exported from Eastern Africa were to be found in areas as far apart as Cuba, Brazil, Madagascar, South Africa, the Ottoman Empire, the Hadramaut and Oman, Egypt, the Persian Gulf, and India, as well as along interior East African caravan routes. However, there are major limitations to seeing East African slavery and the slave trade purely in such broad terms. First, a global perspective can flatten the wide-ranging experiences of slaves across the vast East African region as well as in the Indian Ocean world. Second, some of the literature relies too much on generalizing sources produced precisely in the context of imperial expansion and global reach, ignoring specific local histories. Thirdly, very little research has been conducted in the interior of East Africa. This distorts the historiography. The internal slave trade was a critical factor in social, economic and political change across the region. Sources for this paper include oral texts, missionary records, European travel accounts, ethnographies, Swahili literature, photographic records, and on site visits.
Bio
Stephen J. Rockel is a specialist in Tanzanian and East African history, with strong interests in the Indian Ocean, South Africa, African labour, slavery, urban history, and war and society throughout the continent and beyond. His book, Carriers of Culture: Labor on the Road in Nineteenth-Century East Africa, was published in the Heinemann Social History of Africa series in 2006 and was awarded the Joel Gregory Prize by the Canadian Association of African Studies. He edited (with Rick Halpern) 'Collateral Damage': Civilian Casualties, War and Empire (Between-the-Lines Press, 2009). His current projects include explorations in the history of slavery in Tanzania and the urban history of Tabora, a nineteenth century commercial town. He has taught history at the University of KwaZulu-Natal, South Africa and Addis Ababa University, Ethiopia. In 2014-15 he was a fellow at the International Research Centre "Work and Human Life-Cycle in Global History", Humboldt University, Berlin.