Dr. Danny Hoffman will present a paper entitled, "Monrovia Modern: Urban Forms and the Political Imagination in West Africa," October 13, 2016 at the Harriet Tubman Institute from 2:30 – 4:30.
Abstract
Monrovia, Liberia, like cities across the Global South, is dominated by the ruins of modernist urban forms. The so-called "International Style" once marked the city as cosmopolitan and contemporary. Today, many Monrovians inhabit the remains of this infrastructure in unintended, improvised and transitory ways. Architects, urban designers, anthropologists, historians, and geographers have all seen in these novel attempts to inhabit ruins a new popular politics of the city.  Drawing on fieldwork with male ex-combatants in Monrovia, many of whom live as squatters in the city's ruined infrastructure, "Monrovia Modern" is an effort to understand the possibilities and limits of this emergent popular politics.
Bio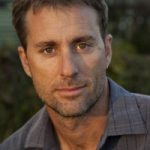 Danny Hoffman is an Associate Professor of Anthropology at the University of Washington.  He is the author of "The War Machines," ethnography of militia movements during the wars in Sierra Leone and Liberia.