Dr. Margaret MacDonald will present a paper entitled, "Misoprostol: The Social life of a life-saving drug in Senegal", on March 2, 2017 at the Harriet Tubman Institute from 2:30 – 4:30.
Abstract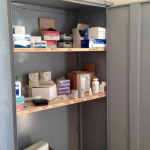 My focus in this paper is a drug called Misoprostol and its uses in reproductive medicine in the global south, with particular reference to Senegal.  Misoprostol is known to be effective for the prevention and treatment of two of the leading causes of maternal death in Africa – post-partum hemorrhage and unsafe abortion.  It also has several advantages for use in low resource settings: its ease of use, heat stability, and low cost.  Yet for many years, misoprostol has been mired in controversy, abandoned by its original manufacturer, and severely restricted in many countries because of its association with off label, black market use as an abortafacient.  In this paper I trace the social life of misoprostol in global maternal health and illuminate key aspects of its value and appeal as a technology: the biochemical effects of the tablets themselves, their ability to challenge traditional bureaucratic and scientific authority and gatekeeping and as a means by which to transport feminist values of access and dignity for women around the world.
Bio
Margaret MacDonald is an Associate Professor of Anthropology at York University in Toronto. Trained as a medical anthropologist, she specializes in the study of gender and health with particular interests in the practices of science, biomedicine, morality and care in women's reproductive health.  She conducts research in three sometimes interconnected field sites: amongst midwives and their clients in Canada; within the global maternal health community; and within the NGO community in Senegal, West Africa.