Kevin Edmonds will present a paper entitled, "From Green Gold to Ganja: The Enduring Legacy of the Plantation Economy in the Eastern Caribbean," on September 21, 2017 at the Harriet Tubman Institute from 2:30 – 4:00.
Abstract
This talk will focus on the economic dynamics, which have contributed to the explosive growth in the Eastern Caribbean ganja economy from 1995 – present. At the centre of this discussion will be the enduring legacy of the Plantation Economic Model, and how it continues to limit the possibilities of genuine socio-economic development in the Caribbean via the tourism/cash crop production model, and how the ganja industry offers lessons of how to build meaningful, community and regional economies from the bottom up.
Bio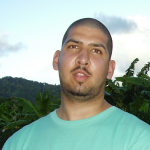 Kevin Edmonds is a PhD student in Political Science, whose research examines the connection between trade liberalization, the decline of the banana trade and the rise of marijuana cultivation/trafficking in the Eastern Caribbean islands of St. Lucia and St. Vincent. His other areas of interest include the political economy of the Caribbean, agricultural policy, alternative development strategies and the history of military intervention and economic destabilization in the Caribbean.