The Harriet Tubman Institute for Research on Africa and its Diasporas at York University is proud to be part of an international network of research centres committed to overcoming injustice and inequity as a result of slavery. Our research focuses on the forced and voluntary movement of African peoples around the world. As a social innovator, the Institute's mandate is to promote a greater understanding of the history of slavery and its legacy. The Institute fosters debate, informs public policy and strives to resolve current social injustices. The Institute is named for the spirit of Harriet Tubman, liberator of her people, feminist, and humanist (c.1820-1913).
The Harriet Tubman Institute is dedicated to capturing, studying, and telling the story of the migration of African peoples around the globe, from centuries ago to the present day. We search the world for materials that help us know and understand this history – from official and personal documents to photographs, interviews and maps. Whenever possible, we digitally preserve and make these accessible to anyone with an interest in seeing and learning from this rich store of information. As an institute of scholars, we also conduct an extensive program of research, publication, and post-graduate studies. As an institute of concerned citizens, we interact with the community and the wider public in raising awareness of contemporary issues of slavery and racism. From our base at York University in Toronto, we connect into an international, multi-disciplinary network of people who share a passion for this field of study.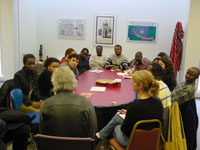 Why We Do This Work
Our passion for this work stems from a belief that all people have a right to know their history, and that the history of the global migration of African peoples has an impact on contemporary culture and society. For some, our work opens a very personal window into their family's past, connecting them with distant people and places, and giving them insight into their cultural heritage. The history of the migration of African peoples is also a history of the countries and communities to which they migrated. We look at what it meant to these communities, what benefits it brought, what strains and tensions arose, what worked or didn't work in creating vibrant multi-cultural communities. We believe this study has much to teach the world in an era of unprecedented forced and voluntary movement of people around the globe – escaping war or oppression; seeking new economic, personal, or professional opportunities.
Why "Harriet Tubman"?
The Institute is named after abolitionist and feminist Harriet Tubman, who was born into slavery in Maryland in 1820, and escaped on foot to freedom in Philadelphia at the age of 25. By 1851, she was in St. Catharines (near Toronto), "conducting" slaves to freedom through the escape routes known as the "Underground Railroad." Over ten years, she is believed to have helped some 300 people seek freedom, and to have said that she "never lost a single passenger." She died in 1913 in Auburn, New York, cared for at the end in a home for the aged that she had founded and in which she had worked as a nurse. A life-long advocate for African-American citizenship and women's rights, Tubman epitomizes courage and commitment to social change.
Our Home Base
The Tubman Institute is based at York University – an institution with a tradition of multi-disciplinary study – in Toronto, one of the most multi-cultural cities in the world. Our resident faculty represent a wide range of academic disciplines, including history, anthropology, languages and linguistics, business, economics, geography, music, dance, law, philosophy and political science. York University is committed to academic excellence, to building close links with the community, and to putting its academic research to work in the community. The Tubman Institute hosts symposiums, conferences and events that bring together leading academics, educators and policy makers from around the world. The Institute was formally launched on the 200th Anniversary of the British Act to Abolish the Slave Trade, March 25th, 2007.
Our Global Network
Our growing group of international associates represents 24 institutions in Africa, the Caribbean, Latin America, Europe, the United States and Canada. We are part of an international network of research centers that are associated with the UNESCO "Slave Route" project and share an interest in the UNESCO "Memory of the World" program aimed at saving endangered archives. We engage in joint projects, as well as hosting symposiums and conferences that bring together leading academics, educators, and policymakers from around the world. We have linkages with historic sites such as the Buxton Museum (which recognizes Canada's role in the struggle against slavery) and Black Creek Pioneer Village.