By Kate Clifford Larson
Harriet Ross Tubman was born into slavery in Dorchester County, on the Eastern Shore of Maryland in the early months of 1822. Originally named Araminta, or "Minty" Ross, Harriet Tubman was one of nine children born to enslaved parents. Frequently separated from her family, she was forced to labor for white masters who beat and neglected her. At age 13, she was nearly killed after being struck on the head by an iron weight thrown by an irate overseer at another slave. As a result, severe headaches, epileptic seizures and intense spiritual and personal visionary activity plagued her for the rest of her life. In 1844 she changed her name to Harriet when she married John Tubman, a local free man. After her enslaver, Edward Brodess, died in 1849, Tubman escaped. Brodess's indebted wife had planned to sell Tubman and several of the Ross children to pay her mounting debts. In spite of marriage to a free man of color, Tubman knew that escaping slavery and fleeing to the free state of Pennsylvania was one of the only options available to her.
Depressed by loneliness and frustration with her new-found freedom, Tubman determined that freedom could only be truly achieved through her entire family's liberation. Aided by a well established network of regional anti-slavery activists and Underground Railroad agents, including Thomas Garrett of Wilmington, Delaware, and William Still of Philadelphia, Tubman returned to the Eastern Shore of Maryland about thirteen times over the next ten years. In spite of her crippling disability, she rescued nearly 70 enslaved family and friends, bringing many of them to St. Catharines, Ontario, Canada, far from the reaches of the U.S. Fugitive Slave Law of 1850. They settled into growing free communities, recreating social networks and support systems they had left behind in slavery. Tubman herself would settle there in late 1857 to care for her aging parents who had recently arrived from Maryland.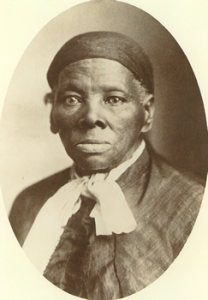 Tubman's courage and tenacity drew the attention of powerful abolitionists. William Lloyd Garrison of Boston first called her "Moses," in homage to the biblical figure who led Jews out of slavery in Egypt.
In 1858 she met militant abolitionist John Brown at her home on North Street in St. Catharines. She recruited former slaves, some from Maryland, for his planned attack on the US arsenal at Harpers Ferry, West Virginia in October 1859. Illness prevented her from joining him. After his capture and execution, however, she immediately recognized his martyrdom would activate abolitionists around the world.
Early in the American Civil War, Tubman joined United States forces at Port Royal, South Carolina. Her military service included spying and scouting behind confederate lines. Her legendary exploits and courage elicited strong admiration from Union officers and enlisted men alike, and scorn from Confederate officials. She also served as a nurse, cook, and educator, teaching newly freed people marketable skills in a wage-based economy.
In 1859, Tubman negotiated the purchase of a home from future Secretary of State, William H. Seward, in Auburn, NY. Returning there after the war, she married a second time, to Union veteran Nelson Davis when her first husband, John, was killed in Maryland. Nelson and Harriet later adopted a baby girl and they named her Gertie. Many of her relatives and friends left Canada in the post war period, and some of them joined her in Auburn.
Often struggling financially, Tubman remained a humanitarian, offering food and shelter to anyone in need. Funds from the sale of two short biographies by Sarah Bradford helped support her crowded household. Denied payment for her services as a spy, Tubman eventually received a Civil War pension from the U.S. government for her nursing service and a widow's pension after Davis died.
An active woman's rights suffragist since 1860, Tubman continued to appear at local and national women's rights conventions until the early 1900s. In 1896, she purchased more property, enabling her to establish a small hospital and rest home for African Americans, who were often denied treatment at "white's only" establishments. The Harriet Tubman Home for the Aged formally opened in 1908. She died there on March 10, 1913.
Harriet Tubman dedicated herself to fighting for freedom, equality, and justice throughout her long life. Rising to international fame, Tubman has become one of North America's most famous civil rights icons.