The Harriet Tubman Institute, York University, in collaboration with The Institute of Comparative Law, & The Hans Tamar Oppenheimer Chair in Public International Law, McGill University present a joint research and discussion series:
Slavery Old and New: Labour Exploitation through the Ages and around the Globe
Slavery Old and New is a joint research initiative which examines the legal conceptualization of labour exploitation. Through an interdisciplinary, transnational and historical methodology, this project draws on a variety of disciplines, spaces in time, and places around the world, to explore law's understanding of "labour exploitation" and its relationship to society and practices.
Upcoming Seminars:
Aspects of the Triangular Slave Trade in Canada by Afua Cooper (Dalhousie University) – This event is co-sponsored by MCRI.

Wednesday November 25th, 1:00 – 2:30 pm at Stedman Lecture Hall 120E
Najat M'jid (former UN Special Rapporteur on the Sale of Children, Child Prostitution and Child Pornography)
Coming in 2016  – date and time to be announced.
Previous events:
Legal Frameworks and Economic Practices Around Slave Labour in Colonial Society: The Case of the French West Indies (Guadeloupe-Martinique) in the 18th Century  by Jean-François Niort

Wednesday November 4th, 1:00 – 2:30 pm  (McGill University)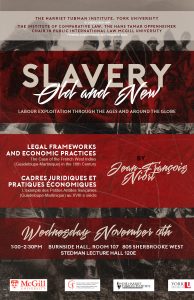 This talk aims to clarify the relationship between the legal frameworks and economic practices around slave labour in colonial society of the Little French West Indies ("Petites Antilles" : Guadeloupe et Martinique) through the evolution of legal rules in the 18th century. Two enactments were particularly significant: the Royal decree ("Edit") of March 1685 regulating slavery in the French colonies (commonly referred to as the "Code Noir" or ''Black Code'') and the Decree ("Ordonnance") of the Governor General of the West Indies on the ''police générale des nègres et gens de couleur'' of December 1783.
Indeed, by comparing the two enactments and their incentives, we notice, on one hand, the nature and magnitude of the economic practices already identified by historians (such as G. Bebien, J. Fallope, A. Perotin-Dumon, F. Régent, C. Oudin-Bastide). On the other hand, we also uncover the modalities with which colonial authorities have tried to supervise and regulate these economic practices since the 17th century, with varying success.
All of this confirms the overall pattern of a highly complex colonial society where each group of social actors (different social categories of slaves and owner-inhabitants, central State, as well as different types of local colonial authorities) defends its own economic interests in the context of a common strategy of avoidance and circumvention of the law – which led to the recurrent reaffirmation of the legal norm – to its solidification and adaptation nearly proportional to its degree of practical inefficiency.
Video of The Fictive Coherence of Global Struggle: Combating 'Modern-Day Slavery' in Rhetoric and Practice seminar by Joel Quirk
Monday September 28th, 2015 12:30 – 2:00 pm at Stedman Lecture Hall 120E
Abstract : Combating human trafficking has been widely presented as a cohesive and singular global cause, which builds upon the noble work of 'modern-day abolitionists' seeking to finally end slavery once and for all.  The main argument of this paper is that this  popular rhetoric of shared global struggle is both highly misleading and politically problematic. In its current incarnation, 'the cause' of ending human trafficking and 'modern-day slavery' brings together two major elements: i) an increasingly dense regime of law and policy which is universal in scope yet shallow and selective when it comes to effective application, and ii) a diverse portfolio of more substantive political interventions which tend to heavily concentrate upon specific locations and industries. These case-specific interventions often have little or no  direct connection to parallel interventions taking place in other parts of the world. There may well be broad  similarities in the types of abuses which occur in different contexts and countries, but a great deal of a creative aggregation and extrapolation is required in order to translate broad similarities into the language of a singular and cohesive global cause.  Once we puncture this fictive coherence, it quickly becomes clear that there is not one global anti-trafficking or anti-slavery movement, but many different movements and actors with different agendas and interests, most of which primarily focus upon specific issues and/or localised concerns.  In stark contrast to historical campaigns to end legal slavery, which were firmly aimed at the profits and privileges of the rich and powerful, most of these interventions only rarely pose a direct threat to major political and economic interests, which is ultimately a key source of their appeal.
Joel Quirk  is Associate Professor in the Department of Political Studies, University of the Witwatersrand. His research focuses on slavery and abolition, human mobility and human rights, repairing historical wrongs, and history and politics of sub-Saharan Africa. Recent works include  The Anti-Slavery Project  (Penn, 2011), International Orders in the Early Modern World  (Routledge, 2014, co-edited), Mobility Makes States  (Penn, 2015, co-edited), and The Invention of Contemporary Slavery  (UBC, in press, co-edited). He has also recently co-edited special issues/sections on  Repairing Historical Wrongs ( Social & Legal Studies, 2012),  Sampling Techniques in Johannesburg ( Journal of Refugee Studies,  2012) and the Politics of Numbers ( Review of International Studies,  2015).  Joel is a current member of the International Scientific Committee of the UNESCO Slave   Route Project, where he serves as Rapporteur, and is also an editor for open Democracy's 'Beyond Trafficking and Slavery' ( https://www.opendemocracy.net/beyondslavery).