Part I: Origins
Shortly after the Americans declared war on the British in June 1812, a 68 year old West African named Richard Pierpoint proposed the formation of a Black fighting unit, a "Corps of men of Colour." A small militia unit was formed and became known as the Coloured Corps. Richard Pierpoint was one of over 50 who served in that unit throughout the war. The Coloured Corps fought in at least two key battles as foot soldiers and were involved in the repair of Forts George and Niagara, and the building of Fort Mississauga. While the commanding officers were white, six of the enlisted Black men served as sergeants or corporals and the rest served as privates. The number strength of the unit varied throughout the war due to fatalities, illness, desertions and the occasional addition of Black soldiers from other militias. There were usually between 25-30 men.
At least one man had fought for the British in the American Revolutionary War: Richard Pierpoint was an experienced soldier who, despite his advanced age, took up arms against the invading Americans. The Black population throughout British North America had much to fear, should the Americans win the war: those who were free men might find themselves sold into slavery. Those who were enslaved might have hoped that their service to the King as soldiers would win them their freedom.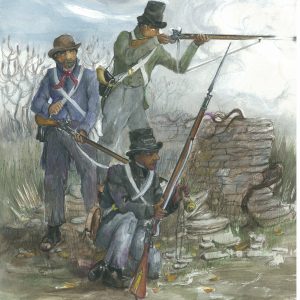 There were both free and enslaved men in the Coloured Corps' ranks. While Pierpoint gained his freedom for his service in Butler's Rangers, he was one of many who were free men when the Corps was founded. Robert Scott, a free man and farmer living in the town of York, joined up. George Martin, another Coloured Corps enlistee, had been a slave as a child, until his freedom was purchased by his own father who, like Pierpoint, had served in Butler's Rangers. However, others were not so lucky. "Jack" was a slave who had enlisted in the Coloured Corps, perhaps believing that by doing so he might gain his freedom. He was owned by a white slaveholder, W. A. Nelles, who resided near present-day Grimsby. Nelles requested that the military return "Jack" to him in March 1814. Prince Henry was the legal property of William Jarvis, the Provincial Secretary of Upper Canada. He appears on the muster roll in 1813. Was he signed up by Jarvis, or was he a 'run-away,' hoping his military service would gain him his freedom?
The Coloured Corps was a unique fighting unit within the British military, consisting of men who valued freedom and who were willing to fight to ensure freedom for themselves, their families and their country.
Watch the Augmented Reality vignette
Download the Lesson Plans: Cumulative Study, Proof of Service, Currency, Muster Roll, Non-Commissioned Officers
Check out the related documents 
Part II: The War & Its Aftermath
When the Coloured Corps was formed, the men trained at Fort George throughout the early fall of 1812. When the American forces invaded in mid-October, the Coloured Corps was charged with guarding the fort, while the other troops fought with General Isaac Brock at Queenston Heights. After the General was killed, his replacement, General Sheaffe, brought all remaining forces to Queenston. The Coloured Corps joined the 900-strong army on the battle field and participated in the defeat of the Americans.
They spent the winter of 1813 at Fort George, but when the Americans took the fort, they joined the retreat, first to Queenston Heights and then all the way to Burlington Heights (now in Hamilton). The Coloured Corps remained at base camp during the Battle of Stoney Creek, but may have participated in other skirmishes, as well as the Battles of St. David's and Lundy's Lane. They worked on the repairs to Forts George and Niagara, and in 1814, were charged with the building of Fort Mississauga.
The Coloured Corps was dismissed in March of 1815, a few months after the signing of the Treaty of Ghent. In the years following the war, Coloured Corps veterans worked hard at getting back pay and their pensions. Besides monetary compensation, all war veterans were also entitled to land grants of 200 acres. No veteran of the Coloured Corps received a 200-acre land grant. Instead, they had to settle for 100-acre lots. The records indicate that these claims were still being settled well into the 1820s and early 1830s. In fact, getting what was owed was often left to their widows and children, as many Coloured Corps veterans died before receiving what was due to them.
In 1824, twelve years after General Brock was hastily buried at Fort George, his body was reinterred at the base of a new monument at Queenston Heights. The three-hour-long procession was attended by thousands, including Scottish Highlanders, First Nation chiefs and warriors, and of course, men, women and children. One young boy later recounted that the army wagon carrying General Brock's coffin was driven by a Black man. And accompanying the funeral wagon were four Black men on foot. Perhaps they were veterans of the Coloured Corps, showing their respect for the General who had welcomed the formation of this unique army unit.
Watch the Augmented Reality vignette
Check out the related documents
Related Stories:
Coloured Corps Partie I: Origines 
Peu de temps après que les Américains aient déclaré la guerre aux Britanniques en juin 1812, un homme de l'Afrique de l'Ouest de 68 ans nommé Richard Pierpoint a proposé de formé une unité de combat noire, le « Corps of men of Colour » ou corps d'hommes de couleur. Ils ont formé une petite unité de milice appelée le Coloured Corps. Richard Pierpoint a fait partie de plus de 50 noirs qui ont servi dans cette unité pendant toute la guerre. Les membres du Coloured Corps ont combattu comme fantassins dans au moins deux batailles clés et ont participé à la réparation des forts George et Niagara, et à la construction du fort Mississauga. Les commandants étaient des blancs, mais six soldats noirs ont servi comme sergents ou caporaux; tous les autres noirs étaient de simples soldats. Au cours de la guerre, la force du nombre des membres de l'unité variait, généralement entre 25 à 30 hommes, à cause des mortalités, de la maladie et des désertions et de l'ajout occasionnel de soldats noirs provenant d'autres milices.  
Au moins un d'entre eux avait combattu du côté des Britanniques lors de la guerre de l'Indépendance américaine. Richard Pierpoint était un soldat chevronné qui, malgré son âge avancé, a pris les armes contre les envahisseurs américains. La population noire en Amérique du Nord britannique avait beaucoup à craindre d'une victoire des Américains : les membres de cette population qui étaient des hommes libres se retrouveraient peut-être vendus comme esclaves. Ceux qui étaient esclaves espéraient peut-être que les services qu'ils rendaient au roi comme soldats leur vaudraient la liberté.  
Il y avait des hommes libres et des esclaves dans les rangs du Coloured Corps. Pierpoint avait obtenu sa liberté pour services rendus au sein des rangers de Butler. Il faisait partie d'un grand nombre qui sont devenus des hommes libres quand le corps a été créé. Robert Scott, un homme libre et agriculteur de la petite ville de York, s'est joint au corps. George Martin, une autre recrue du Coloured Corps, avait été un esclave dans son enfance, jusqu'à ce son père achète sa liberté. Tout comme Pierpoint, son père avait servi au sein des rangers de Butler. Cependant, d'autres n'ont pas été aussi chanceux. « Jack » était un esclave quand il s'est enrôlé dans le Coloured Corps, croyant peut-être qu'en ce faisant il obtiendrait sa liberté. Il appartenait au propriétaire d'esclaves W. A. Nelles, qui vivait près de la ville de Grimsby actuelle. Nelles a exigé que les militaires lui rendent « Jack » en mars 1814. Prince Henry était un bien en droit de William Jarvis, le secrétaire provincial du Haut-Canada. Il apparait sur la feuille d'appel de 1813. Est-ce Jarvis qui l'a enrôlé, ou était-il un fugitif espérant que le service militaire lui vaudrait la liberté?
 Le Coloured Corps, une unité tout à fait unique au sein des forces armées britanniques, comprenait des hommes qui valorisaient la liberté et étaient prêts à se battre pour obtenir leur liberté, celle de leur famille et celle de leur pays.
Visionner la vignette à réalité augmentée
Télécharger les plans de cours: Cumulative Study, Proof of Service, Currency, Muster Roll, Non-Commissioned Officers
Vérifier les documents connexes
Coloured Corps Partie II: La guerre et ses conséquences
Lors de la formation du Coloured Corps, les hommes ont été formés à Fort George au début de l'automne 1812. Lorsque les forces armées américaines ont envahi, à la mi-octobre, les hommes du Coloured Corps ont été chargés de la défense du fort, alors que d'autres troupes combattaient auprès du général Brock à Queenston Heights. Après la mort du général, son remplaçant, le général Sheaffe, a rassemblé toutes les forces à Queenston. Les hommes du Coloured Corps se sont joints à l'armée forte de 900 hommes sur le champ de bataille participant ainsi à la défaite des Américains.
Le Coloured Corps a passé l'hiver 1813 à Fort George, mais lorsque les Américains se sont emparés du fort, ils ont battu en retraite avec les autres forces, d'abord à Queenston Heights, puis jusqu'à Burlington Heights (maintenant la ville d'Hamilton). Le Coloured Corps est demeuré au camp de base durant la bataille de Stoney Creek, mais il a participé à d'autres confrontations ainsi qu'aux batailles de St. David's et de Lundy's Lane. Les hommes du Coloured Corps ont participé à la réparation des forts George et Niagara et, en 1814, ils ont été chargés de la construction du fort Mississauga.
Le Coloured Corps a été démobilisé en mars 1813, quelques mois après la signature du Traité de Gand. Au cours des années qui ont suivi la guerre, les vétérans du Coloured Corps se sont battus bec et ongles pour obtenir leurs arriérés salariaux et leurs pensions. En plus des compensations monétaires, tous les vétérans avaient également droit à une concession de terre de 200 acres. Aucun vétéran du Coloured Corps n'a reçu sa concession de 200 acres. Ils ont plutôt dû se satisfaire d'une concession de 100 acres. Les documents indiquent que ces revendications n'étaient toujours pas réglées dans les années 1820 et même au début des années 1830. En fait, il a souvent fallu que les veuves et les enfants des vétérans poursuivent les demandes, puisque plusieurs vétérans du Coloured Corps sont morts avant de recevoir leur due.
En 1824, douze ans après l'enterrement hâtif du général Brock à Fort George, sa dépouille a été exhumée et enterrée de nouveau au pied d'un nouveau monument à Queenston Heights. Des milliers de citoyens ont assisté au cortège d'une durée de trois heures, y compris les Scotland Highlanders, les chefs et guerriers des Premières nations et, bien sûr, plusieurs hommes, femmes et enfants. Un jeune garçon a raconté plus tard que le chariot militaire transportant la dépouille du général Brock était conduit par un homme de race noire. Ce chariot était tiré par quatre chevaux noirs accompagnés par quatre hommes de race noire à pied. Il s'agissait peut-être d'anciens combattants du Coloured Corps manifestant leur respect pour le général qui a accepté la formation de cette unité militaire unique.
Visionner la vignette à réalité augmentée
Télécharger les plans de cours: Cumulative Study, Proof of Service, Currency, Muster Roll, Non-Commissioned Officers
Vérifier les documents connexes
Autres histoires connexes:
Retour à la page sur les histoires de soldats