The Harriet Tubman Institute, Department of Geography & Department of Equity Studies at York University present: Book Launch – Boomerang Ethics: How Racism Affects us All by Joseph Mensah & Christopher J. Williams.
About the Authors
Professor Joseph Mensah is the current Chair of the Department of Geography at York University in Toronto. His research focuses on globalization and cultures; transnational migration; and race and identity formation. He has received several competitive awards and grants from the likes of the Social Sciences and Humanities Research Council of Canada (SSHRC), the Gates Foundation, the Commonwealth Secretariat, and ILO. He has written several articles and books, including the well-received Black Canadians: History, Experience, and Social Conditions (Fernwood, 2002 & 2010).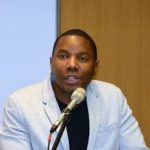 Christopher J. Williams is a scholar who has taught at York University, Brock University and the University of Western Ontario. He conducts research in the areas of race and racism, policing and critical criminology. His published work has been featured in academic journals such as Race & Class, Canadian Ethnic Studies, Housing Studies and the African Geographical Review.