Mali Olatunji and Paget Henry will present a paper entitled, "The Making of a Woodist/Jumbie Aesthetic."
Abstract
Mali Olatunji, photographer and aesthetician, is the creative inspiration behind an original breakthrough in visual arts of Antigua and Barbuda, and also the wider Caribbean. This is a new approach to photography that is rooted in what Olatunji calls a woodist/jumbie aesthetic. Samples of these photographs are contained in the book, The Art of Mali Olatunji: Painterly Photography from Antigua and Barbuda, with commentaries written by Paget Henry.  The talk will focus on the making and interpreting of these photographs.  The aesthetic responses of audiences to these photographs have fallen into three broad categories: technical, painterly and jumbie. A jumbie is the Antiguan/Caribbean term for the soul of a departed person, and one that remains here on earth rather than returning immediately to the realm of Spirit. Further, having lost their physical bodies, it is believed in the Caribbean that jumbies live in trees and particularly Silk Cotton trees.
As a creative artist, Olatunji took this idea of Jumbies living in tree and posed the following question to himself: with trees as their new bodies, how do jumbies see the world? Through a woodist aesthetic was his answer to this question. The photographs in The Art of Mali Olatunji illustrate brilliantly this woodist aesthetic through which jumbies see the world. However, the audiences that have viewed these photographs have seen other things in them. In particular, they have noticed the modernist techniques employed in their production, and also their painterly quality.  This Tubman Talk will focus on the painterly and the jumbie interpretations of the aesthetics of these photographs. Paget Henry will represent the painterly interpretation, while the photographer himself, Mali Olatunji, will articulate the Jumbie view. We will examine the tensions between these two ways of reading these images and possibilities of resolving them.
Bio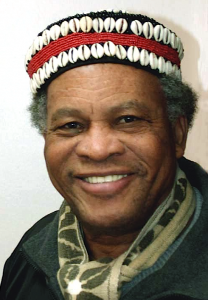 Mali Olatunji is one of Antigua and Barbuda's leading photographers and aestheticians. He has been a life-long political activist and he received is MA in aesthetics from New York University. Olatunji was a fine arts photographer for the Museum of Modern Art in New York from 1974 to 1995. He is the photographic collaborator with John Elderfield on the book, The Modern Drawing (1983), and also with Paget Henry on the production of The Art of Mali Olatunji: Painterly Photography from Antigua and Barbuda.
Paget Henry is professor of sociology and Africana Studies at Brown University. He is the author of Shouldering Antigua and Barbuda: The Life of V.C. Bird (2009), Caliban's Reason: Introducing Afro-Caribbean Philosophy. He is the editor of the CLR James Journal and also of The Antigua and Barbuda Review of Books Antigua and Barbuda.